Takshak Kaal Sarp Dosh is a curse that comes into a person's life as a result of the negative actions they carried out in a former life. These actions are what ultimately lead to the individual's difficulties in this life. Because this dosha is present in a person's life, the person's emotional state does not improve, and the person continues to struggle with issues relating to their children, their health, their house and family, and their finances. Because of this dosha, a person is to deal with mental difficulties, and they often have nightmares.
तक्षक काल सर्प दोष के उपाय और फायदे के बारे में हिंदी में पढ़े। यहाँ क्लिक करे।
In the majority of these nightmares, the individual who is afflict with the disability continues passing away or snakes are seen. The malefic influences of Rahu and Ketu are responsible for the occurrence of the condition known as Kaal Sarp Dosh. The Kaal Sarp Dosh has the potential to unleash unimaginable suffering and calamity onto the native of the land. When a person is afflicting with Kaal Sarp Dosh. It will have a negative impact on their life. When all of the planets in a person's horoscope meet between Rahu and Ketu, a yog called the Kaal Sarp Yog is produce in their kundali. If there is a Kaal Sarp Dosh in a person's Kundali, that person may have unexpected difficulties.
Contact Sunil Guruji for Takshak Kaal Sarp Dosh Puja in Trimbakeshwar at +917887888747
What is Takshak Kaal Sarp Dosh?
Takshak Kaal Sarp When Rahu is position in the seventh house of the horoscope (kundali), and Ketu is position in the first house of the horoscope (kundali), and all of the other planets are position in the house range from the seventh house to the first house of kundali, then a dosh will develop in that person's kundali.
As Rahu and Ketu are locating in one of the houses in the horoscope (kundali) that is consider to be the most significant. It is imperative that an astrologer pay close attention to this aspect. The Kalsarp shanti puja has to be perform in accordance with the stipulations of the Vedic Shanti inheritance. The ritual begins with participants taking a holy bath in the Godavari river, which symbolises the purification of their minds and souls. The primary ritual does not begin until after the worship of Lord Mahamritunjay Trimbakeshwar has been completed.
Takshak Kaal Sarp Yog positive effects
Even though the practise of Takshak Kalsarpa Yoga may have a number of undesirable repercussions on a person's life, it is not without some redeeming qualities. For the native who is born under this Yoga, there are also some beneficial things that may occur or take place over their lifetime. The following are a few examples of the favourable occurrences that are attributable to the presence of this yoga in a person's natal chart:
Achievement in One's Own Business Ventures
Beneficial to One's Financial Situation
Boosts One's Faith in the Spiritual World
Beneficial for a Career in the Practises of Yoga and Meditation
Resulting in a Winning Outcome in Legal Disputes
Benefit from Foreign Land
Improved Communications with More Powerful Authorities
Gains to be Made on the Share and Stock Market
Problems caused by Takshak Kaal Sarp Dosh
The potent influence of this kaal sarpa dosh might bring about significant challenges in an individual's life.
Because of this dosh, the people's physical appearances abruptly took a turn for the worst. The native person's body weight may be more than what is consider to be normal for their height, or the weight may be lower than what is consider to be the need of the body weight for their height.
The individual who has this dosh may have an unfavourable impact on their character; they may give off gloomy feelings, and as a result, others may find it annoying while they are in their company.
The majority of natives have difficulties in their marital lives, and the kind and severity of these difficulties might change depending on the strength of the dosh.
Because of their personality, attaining professional success is more difficult.
The individual who has a potent Takshak kaal sarpa dosh in their horoscope is support by other specific flaws.
In addition to the above
Because of this dosh, the person's outward appearance may be altered in an unfavourable way. The individual's body weight may be more than the average body weight for their height, or it may be lower than the needed body weight for their height. Either of these possibilities is possible.
If a person is born with this dosh, it may have a bad impact on their personality; they may send out unpleasant vibrations, and as a result, other people may find it difficult to be in their company.
The vast majority of individuals struggle in some way during the course of their marriage. And the type and severity of these challenges might change depending on the dominant dosha.
Because of who they are as a person, achieving professional success will be more challenging for them.
The native who has a powerful Takshak kaal sarpa dosh in their horoscope (kundali) is back by other particular flaws such as womanising, smoking, and drinking, amongst other things.
Takshak Kaal Sarp Dosh effect on marriage
People who do Takshak Kalsarpa Yoga have the desire to be acknowledged and dealt with in the same manner as their peers. As a result, they have a fundamental propensity to look for a companion who is unconventional and a free spirit by nature. In most cases, these indigenous people find themselves trapped in pretty strange as well as unpleasant circumstances with their partners. And they are unable to talk about it or let it go peacefully since they are unable to let it go unnoticed.
Any relationship with a partner, whether it be in life or in business, will never be beneficial for the native. And the native should not have been involved with a partner in the first place since the native's luck will not be in their favour as Rahu is positioned in the Seventh House. It's possible that Native's spouse in his or her first marriage may dismiss him or her and their history of being associated together.
For those who are born under the Takshak Kalsarpa Yoga, faithfulness and loyalty are more of a distant spectator than anything else. They are notorious for making promises to people outside of their home country about business deals, marriage contracts, alliances, negotiations, or bargains. Nevertheless, when the time comes for them to really perform those pledges, they are nowhere to be found. Even if they do achieve the hazy promise of cooperation, there will always be a sense of discontent. And the relationship will be utterly harm as a result.
To Solve Marriage Problem Contact Sunil Guruji at +917887888747
How to get rid of Takshak Kaal Sarp Dosh and upay in lal kitab
Take Extra Precautions Regarding Your Relationship with Your Spouse:
Due to the fact that Rahu and Ketu are position in an unfavourable manner in this Yoga. The native ought to exercise an increasing degree of caution in regards to the connection that they have with their partner. They need to have a sense of mutual understanding with one another. And they should work things out rationally and not while they are upset with one another.
Maintain a State of Vigilance in Business Partnerships:
When a native enters into a commercial partnership, cooperation, or alliance with another party. They need to exercise considerable caution since there is a significant likelihood that they may be defrauded by the other party or parties participating in the transaction.
Avoid Aggressive Behaviour:
Simply talking to people in a respectful manner and showing humility would resolve more than half of the conflicts that arise amongst natives. Without ever getting close to bringing any kind of weapon into play on their side. When communicating with other people. It is strongly recommending that you employ the power of courteous and friendly words. Rather than the fury of abusive and furious remarks.
Avoid Getting Involve in Any Unwanting Legal Struggles:
The native who has Takshak Kalsarpa Yoga should never make the mistake of becoming engaged in unwelcome court matters. Or circumstances since the outcomes will never be in their favour. This is not a choice that should be made lightly. Therefore, avoiding even the smallest legal hassles or difficulties as much as possible.
Maintain Command of Your Feelings and Emotional Flow:
The native has to maintain a tight rein on his or her emotional outbursts towards other people. In order to avoid hurting the people who are closest to them. And suffering a loss on the professional front as a result of the native's behaviour.
Make an Effort to Make Friends:
Being by one's lonesome has never been of any use to anybody. It is more likely to make a person think about unwelcome things to such an extreme degree that they may exaggerate the significance of the situation. So jeopardising their connection with someone who is really important to them. Instead, engaging in some light social activity helps to relieve personal tension and stress. Which in turn relaxes our body as well as our spirit. It also provides us with the opportunity to discuss our issue with other people. And to get various answers, some of which may genuinely be helpful.
Be truthful:
It is of the utmost significance for the native to always have an honest relationship with the people in their immediate environment. A falsehood is never believing for very long, and it always seems to surface at the most inopportune moment. Therefore, it is best not to put your priceless connection with those you care about at jeopardy. On the other hand, when Ketu is in place in the First House. The native will see an increase in their capacity for healing and meditation. Which will be to their long-term benefit if they continue to be true.
Avoid assisting anybody financially, especially strangers :
Therefore, if the above-mentioned measures are practised in an exhaustive manner and on a consistent basis. It may enable the native to lessen the impacts of Takshak Kalsarpa Yoga in their birth charts.
Takshak Kaal Sarp Dosh celebrities
Both the Takshak Kaal Sarp Yog and the Chandra Grahan Dosh were present in the birth chart of the actor Sidharth Shukla.
Muammar Gaddafi has Karkotak Kaal Sarp Yog in his natal chart
Singer KK has Takshak Kaal Sarp Yog
Kaal Sarp Yog was practise by the mass murderer in the Texas school shooting, Salvador Ramos.
Saddam Hussein got Mahapadam Kaal Sarp Yog in his natal chart
Cricketer Raman Lamba has Kaal Sarp Dosh
Maria Monica Susairaj possesses Kaal Sarp Yog, Shraapit Dosh and Chandal Dosh
Cliff Burton, guitarist for Metallica, was born with the planetary configurations of Vishdhar/Vishakt Kaal Sarp Yog, Pitra Dosh, and Naag Dosh in his birth chart.
Takshak Kaal Sarp Dosh duration
The effects of Takshak Kaal Sarp Dosh might be felt till the age of 27.
Takshak Kaal Sarp Dosh benefits
Immediate rewards include landing your ideal job and conquering that significant academic difficulty that you have been battling throughout the dosh. If the dosh nivaran puja for Takshak Kaal Sarp Yog is complete successfully. The immediate benefits include both of these things. The unhealthy routines or addictions that a person now engages in will likewise disappear with time. In the event that your marital life has ever been plague by difficulties or pointless drama. That aspect of it will also be addressed and resolved.
Takshak Kaal Sarp Dosh calculator
The presence of planets on each side of the Rahu and Ketu axis is what causes the yoga known as the Kaal Sarp Dosh to take shape. There is a possibility that a person's life would be challenging if the Kaal Sarp Yog astrological configuration is present in their horoscope. On the other hand, this is not always the case. The majority of individuals have a Kala Sarpa Dosha in their birth charts. And such people tend to be successful in the areas of life that are important to them.
Takshak Kaal Sarp Yog chart and kundali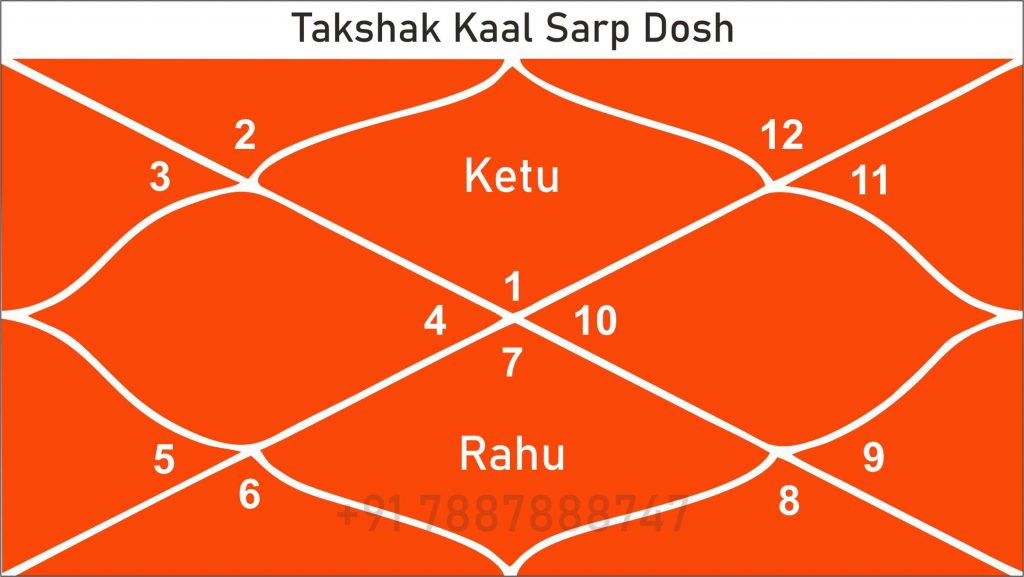 Ketu is located in the most significant part of the horoscope (kundali). Whereas Rahu is located in the least significant part of the horoscope (seventh house). In the horoscope, known as a kundali, Budha Shani is located in the tenth house, Shukra Surya is in the eleventh house, Guru Mangalik is located in the ninth house, and Chandra is located in the eighth house.
Best pandit for Takshak Kaal Sarp Dosh nivaran puja in trimbakeshwar
Pandit Sunil Guruji provides a complimentary reading of the kundali. The kind of Kaal Sarp Dosh that is present in your Kundali will determine the medicines that Guruji recommends. The next thing you need to do is choose the most auspicious muhurat for your kalsarp shanti puja. Because carrying out kala sarpa puja on a favourable muhurat or date boosts the efficacy of the ritual, which is why.
Inquire of the panditji on the price of the Kaal Sarp Dosh puja. Because the cost of the puja is dependent on the number of pandits who are employed to execute it. You will have a good time at Trimbakeshwar Nashik with the help of Guruji's guidance. As a consequence of this, you should begin making preparations for your stay and speaking with Guruji. Make travel arrangements based on the dates that you have selected. Please get in contact with Pandit Sunil Guruji if you have any questions or need any help. Simply give Guruji a call right now to reserve the dates for your pujas.
Book Kaal Sarp Puja by Sunil Guruji. Contact Now +917887888747