An anticipated astrological event known as Kulik Kaal Sarp Dosh might have a negative impact on a native by bringing them a variety of different disasters. It is stated that this occurs as a result of the persons involved having accumulated a significant amount of negative karmas in past lifetimes. In the majority of instances, the Kaal Sarp Dosh has an effect on a person for a period of 47 years. Nevertheless, this may last for much longer or continue for the whole of a person's life, depending on the positions of the planets in their horoscope.
कुलिक काल सर्प दोष के बारे में हिंदी में पढ़ने के लिए यहाँ क्लिक करे।
When all seven planets—the Sun, Moon, Mars, Mercury, Jupiter, Venus, and Saturn—are positioned between Rahu and Ketu, the Kulik Kaal Sarp dosh is formed. It is a kind of the kaal sarp dosh that occurs when Rahu is positioned in the second house and Ketu is positioned in the eighth place. There is no other planet that can be found between these two worlds. A human who has evolved into such a defeat in his life is doomed to a life of failure; he has resigned himself to the fact that he will have to endure a great number of major insults as a result of this yog; the person's education progresses at the average rate; and his marital life also continues as it normally would.
Contact Sunil Guruji for Kulik Kaal Sarp Dosh Puja in Trimbakeshwar at +917887888747
What is Kulik Kaal Sarp Dosh?
This kind of yog is much more dangerous than the others that are toxic. This yog has an effect on a person till the age of 55, and sometimes even throughout his whole life. It is dependent on the location of the Kalsarpa yoga practise. There are twelve different variations of this form of yoga. Anant Kalsarp yog, Kulik Kalsarp yog, Vasuki Kalsarp yog, Shankpal Kalsarp yog, Padam Kalsarp yog. Also Mahapadam Kalsarp yog, Takshak Kalsarp yog, Karkotak Kalsarp yog. Likewise, Shankanad Kalsarp yog, Patak Kalsarp yog, Vishadhar Kalsarp yog, Sheshnag Kalsarp yog.
Kulik Kaalsarp Rahu in the second house, often known as the house of riches, while Ketu is in the eighth house creates the dosha. The practise of yoga will have a detrimental influence on both the ability to earn and save money. He will be unable to communicate effectively and will have little control over the tone of his voice. And in the process will do damage to a large number of people and make them his competitors.
When Rahu occupies the first house and Ketu occupies the seventh house. A planetary configuration known as the Kulik Kaal Sarp Dosha is present. In addition, the Vipreet Kaal Sarpa Dosha is there. This location has an effect on married life. And those who are impact by it will have to put in a lot of effort if they want to succeed in life. Since the unsettling time for such individuals is so much longer. They have to be patient for a little while longer. It is likely that he will need medical attention and maybe surgery. He might die of an uncommon cause such as poison, an accident, a snake bite, or even commit suicide.
Kulik Kaal Sarp Dosh Positive Effects
The consequences of Kaal Sarp Yog have no particular significance in Vedic Astrology. Almost one hundred years ago, a number of astrologers created a map of this yoga and assigned it a certain position. It has been suggested that people who do this kind of yoga would have difficulties in their daily lives because of its notoriously challenging nature. By making people anxious about the effects of this yoga, many astrologers have been able to amass significant fortunes. People are eager to part with their money in order to safeguard themselves from the potentially harmful impacts of the planets.
The fact is that the impacts of the Kala sarpa dosha created by Rahu and Ketu are not always negative for you. Just as Saturn is not always harmful for you. There is the potential for positive outcomes with the practise of Kaal Sarp Yog. Get rid of your worry if you are worried about the consequences that the Kaal Sarp Dosh would have on your Kundli. While there are some real-life instances that indicate how yoga has helped certain individuals achieve tremendous success. There is no need to be concerned by this yoga.
In astrological parlance, Rahu and Ketu are referring to be shadow planets. And they are often seen in all seven houses. It is believed that the effect known as the Kaal Sarp Yog will take place when all of the other planets will be located between Rahu and Ketu. Although though Saturn, Rahu, and Ketu are thought of as bad planets. There are certain fortunate characteristics associate with each of them. You may ward off all the unfavourable influences in your life by doing a Kaal Sarp Yog Puja. Which can be arrang via an online booking service.
Kulik Kaal Sarp Dosh effects on Marriage
Kulik Kaal Sarp depending on the rest of the native's horoscope, Yog might cause the native's wedding plans to be delay. If this is the case, the native may not get married until he is 35 or 40 years old; otherwise, he could choose not to get married at all. As an illustration, if Venus is position in the eighth house in Libra alongside Ketu. And a malevolent combination of the Sun, Mercury, and Saturn is position in the sixth house in Leo. The native might not get marry until the age of 40. Or he might never get marry at all, depending on the rest of his horoscope.
It is possible that this Kulik Kaal Sarp Yog will also have an effect on the health of the marriage. Because of this, the native may have a lot of difficulties in his marriage. The specific kind of which is determine by the whole of his horoscope. The native and his wife could have significant philosophical divergences. And the pair might dispute and fight with each other rather often. It is possible that the relationship between the native's family members and his wife is hostile or very hostile. Thus, as a result, the marriage may deteriorate.
To Solve Marriage Problem Contact Sunil Guruji at +917887888747
Problem caused by Kulik Kaal Sarp Dosh
The Kaal Sarp Dosh has the potential to unleash unimaginable suffering and calamity onto the native of the land. When a person has Kulik Kaal Sarp dosh effects, it will have a negative impact on their life. When all of the planets in a person's horoscope meet between Rahu and Ketu. A yog called the Kaal Sarp Yog is produce in their kundali. If there is a Kaal Sarp Dosh in a person's Kundali, that person may have unexpected difficulties.
Kulik Kaal Sarp Yog Benefits
There are Kulik Kaal Sarp Yog benefits, a few of which are discuss here.
By successfully completing the Kalsharp shanti, this Dosh may be eliminated from a person's life.
By doing so, one increases their chances of receiving a blessing from Rahu and Ketu.
This contributes to a rise in positive outcomes, as well as in good health and wealth.
It instils a sense of sincerity and a constructive attitude towards one's actions in a person.
This helps a person become more courageous in life so that they may take on any risk. And put in outstanding effort to overcome their weaknesses in order to achieve success.
This enables a person to be truthful about the actions that they do and the way that they approach life.
This assists in reducing the dread of the unknown as well as any malevolent spirits.
This contributes to the achievement of success in both one's personal and social life.
Kulik Kaal Sarp Yog duration
Taking a look at the effect that the Kulik Kaal Sarp Yog duration have. Let's say that the Moon is locating in the first quarter of the Krittika nakshatra while it is in the sign of Aries. It indicates that the native was born during the Sun Mahadasha with around five years remaining. Sun Mahadasha is followed by 10-year Moon Mahadasha, 7 year Mars Mahadasha, 18 year Rahu Mahadasha and 16 year Jupiter Mahadasha. In this horoscope, every one of these planets, with the exception of the sun, is considerably or very favourable. So, the native has the potential to have highly favourable outcomes in most aspects of his life until the age of 56. (end of Jupiter Mahadasha).
After then, the Saturn Mahadasha will begin, which will last for 19 years. This Mahadasha might bring about difficulties due to Saturn's negative influence on the horoscope. Nonetheless, since the native's horoscope as a whole is rather powerful, such difficulties could not be particularly important or destructive. On the other hand, depending on the subtler aspects of the native's horoscope, they might be major or destructive.
Let's rewrite the equation completely and look at what could occur when the Kulik Kaal Sarp Yog is subject to the effect of unfavorable planets. Consider a hypothetical horoscope in which the malevolent planetary positions of Rahu in the second house of Aries. And Ketu in the eighth house of Libra combine to generate the Kulik Kaal Sarp Yog. Imagine that a malefic exalted Sun is in position in the second house with Rahu. And that a malefic exalt Saturn is place in the eighth house together Ketu in Libra.
The Outcomes
Given that the Sun and Saturn are both quite powerful and malevolent, the entire combination of these four planets has the potential to become extremely malevolent. As a result, the Kulik Kaal Sarp Yog, which is back by the Sun and Saturn. Has the potential to wreak two to five times as much harm in this scenario, depending on the horoscope as a whole. Thus, as a consequence of this, the native may have very significant challenges in a variety of domains, including family, money, finances, addictions, health, marriage, and others.
As the second house as well as the lord of the 11th house (Saturn) are both impact by this Kulik Kaal Sarp Yog, it is possible that this Yog will also have an effect on the native's career. As a result, the native can have obstacles and delays in his vocation, in addition to financial difficulties. In the most severe examples of this kind of problem, the native may not be able to establish himself in a career until he is forty years old or for the rest of his life.
Remedies for Kulik Kaal Sarp dosh its Upay
Kulik Kaal Sarp dosh Pooja is a fundamental need since it helps one overcome all of life's challenges and problems. By doing the kalsarp Pooja, people have the ability to prevent the untimely passing of a loved one. It is including into Lord Shivji's narrative along with the rest of the story. In the event that adverse effects occur, the remedy for Kulik Kaal Sarp dosh will provide relief. It's all about working hard and putting some of that money away.
This will also bring about improved communication abilities, as well as the availability of aid from family. Abilities that are impressive may lead to success. You will eliminate the risk of experiencing any potential accidents or injuries. You will be protecting against an unexpecting death such as one cause by poison, an accident, a snake bite, or even by your own hand. The practise of reciting the Mahamrityunjaya mantra 51,000 times is the treatment for this condition. The Kulik Kaal Sarp Yog remedies pooja of Lord Shiva will be perform as the last step.
During this Pooja, people would offer milk, curd, sugar, dhatura, and an incinerator as well as silver naag-naagin pairs as a form of worship to Lord Shiva. Sandalwood, rice, the Ganga jal, the Bel Patra, the flower of white Akora, the flower of lotus, and other fruits are also present as offerings to Lord Shiva. Pandit, please do the cure using our many different centres, which are the locations of Jyotirlingas. And other essential Shiva-lingas of Lord Shiva are in cities such as Banaras (Varanasi), Delhi, Trimbakeswar, and Jaipur respectively.
Kulik Kaal Sarp dosh calculator
If you want to know if your Kundli contains Kaal Sarp Dosh or not, contact Pandit Sunil Guruji and provide your date of birth, place of birth, and time of birth. Pandit ji will provide you with full Dosh information for free.
If you want to check yourself, look at your Kundli and the Kundli chart, and if Rahu is in the first place and Ketu is in the seventh position in the Kaal Sarp Dosh chart, you have Anant.
The presence of planets on each side of the Rahu and Ketu axis is what causes the yoga known as the Kaal Sarp Dosh to take shape. There is a possibility that a person's life would be challenging if the Kaal Sarp Yog astrological configuration is present in their horoscope. On the other hand, this is not always the case. The majority of individuals have a Kala Sarpa Dosha in their birth charts, and such people tend to be successful in the areas of life that are important to them. With the help of Kulik Kaal Sarp dosh calculator, let's determine whether or not you have this Yoga in your birth chart.
Kulik Kaal Sarp dosh chart or Kundali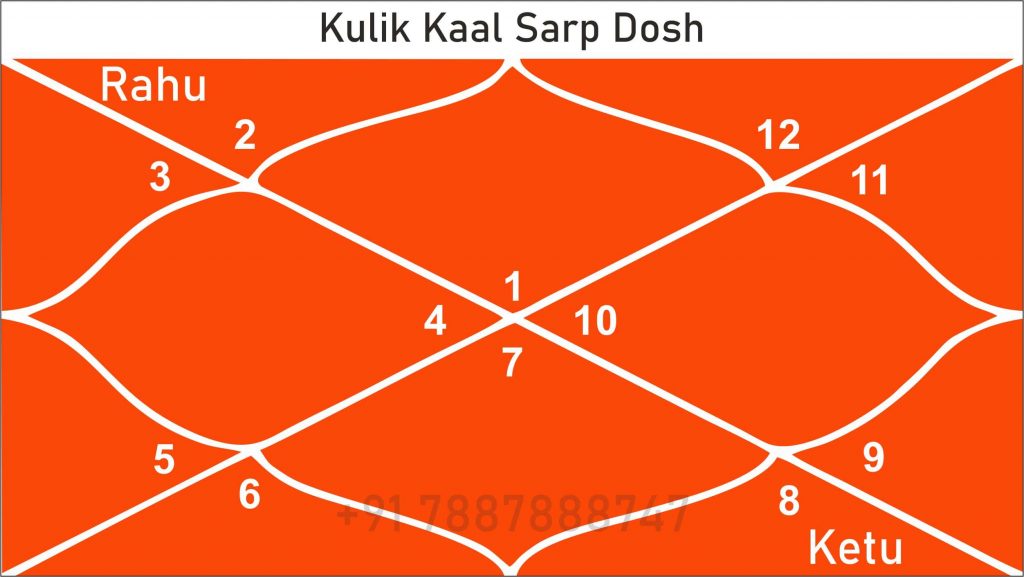 In a person's horoscope, rahu is located in the second house, while ketu is located in the eighth location. As the fourth position holder, Budh, Shukra is followed by Surya, Chandrama at the third spot. Similarly, shaniis should be in place in the seventh position. Mangal in the fifth position, and guru in the sixth position in a person's horoscope. That shows that you have Kulik Kaal Sarp dosh in your kundali.
Best Pandit for Kulik Kaal Sarp Dosh Nivaran Puja in Trimbakeshwar
Pandit Sunil Guruji provides a complimentary reading of the kundali. The kind of kaal sarp dosh that is present in your Kundali will determine the medicines that Guruji recommends. The next thing you need to do is choose the most auspicious muhurat for your kalsarp shanti puja. because carrying out kala sarpa puja on a favourable muhurat or date boosts the efficacy of the ritual, which is why.
Inquire of the panditji on the price of the kaal sarp dosh puja. Because the cost of the puja is dependent on the number of pandits who are employeable to execute it. You will have a good time in Trimbakeswar with Guruji's assistance. As a consequence of this, you should begin making preparations for your stay and speaking with Guruji. Make travel arrangements based on the dates that you have selected. Please get in contact with Pandit Sunil Guruji if you have any questions or need any help. So give Guruji a call right now to reserve the dates for your pujas.
Book Kaal Sarp Puja by Sunil Guruji. Contact Now +917887888747